Era
(acróstico de Enminential Rhythm of the Ancesterses) es un proyecto musical del francés Eric Lévi. Gran parte de sus canciones están basadas en el canto gregoriano medieval en latín, pero solo en su estilo, ya que no se trata de música religiosa. Dicho género se podría describir como New Age, similar al de otros artistas como Enya, Enigma y Deep Forest.
A finales de marzo de 2003, Eric Lévi crea The Mass, su tercer disco al frente de esta banda - proyecto llamada Era.
En poco tiempo las ventas de su nuevo álbum, se coloca en los primeros lugares en Europa y México, ganándose así, discos de Oro y de Platino. Y es que la mezcla de Carmina Burana, del legendario Carl Orff, y Divano de Eric Lévi; hacen recordar los tiempos o la Edad Media.
Así mismo, The Mass, tomó gran importancia para una telenovela brasileña - marroquí, transmitida en Venezuela, Perú, Chile, Argentina, México y Estados Unidos: El Clon. Looking for something fue el siguiente corto. En el cual su video filmado en la ciudad de New York, cambia en forma radical, a como Levi los había hecho antes, tipo medievales.
Looking for something como su nombre lo dice, busca algo que no se ha encontrado. Después el DJ Darren hizo la mezcla para esta canción y así, convertirlo en el siguiente corto. Casi al mismo tiempo.
Don't go away es el último corto, y en febrero de 2000, se vendieron 401.544 copias, en Francia. Y para cerrar el 2000, un recopilatorio con las mejores canciones de Era en su disco: «The very best of: era».
Es un disco doble, el primero incluye 16 canciones, solo una inédita: I believe. asi canciones como Ameno, Mother, Divano, Sentence, The Mass, Looking for something, por mencionar algunas.
El segundo disco es un DVD conteniendo la colección completa de videos grabados por Era. Una de las canciones que más éxito obtuvo ERA fue sin duda «Ameno», una bella canción.
DISCOGRAFIA
2004 - The Very Best Of ERA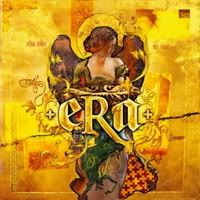 01 - Ameno (Remix)
02 - Don't Go Away
03 - The Mass
04 - Mother
05 - Misere_Mani
06 - Avemano Orchestral
07 - Looking For Something
08 - Dont u
09 - Enae Volare
10 - Cathar Rythm
11 - Divano
12 - Don't You Forget
13 - Humne
14 - Sentance
15 - I Believe
16 - Looking For Something (Darren Tate Mix Edit)
2000 - The Mass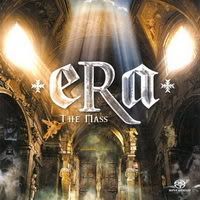 01 - The Mass
02 - Looking For Something
03 - Don't go away
04 - Don't you forget
05 - If You Shout
06 - Avemano Orchestral
07 - Enae Volare
08 - Sombre Day
09 - Voxifera
10 - The Champions
11 - Omen sore
12 - Divano
13 - Devore amante
14 - Sentence
15 - Don't u
16 - Infanati
17 - Madona
18 - Hymne
19 - Misere mani
2000 - Misere Mani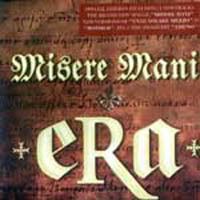 01 - Ameno remix
02 - Mother remix
03 - Avemano
04 - Enae Volare mezzo
05 - Misere Mani
06 - Cathar Rhythm
07 - Ameno
08 - Sempire d'Amor
09 - Mother
10 - Mirror
11 - Era
12 - Impera

2000 - ERA2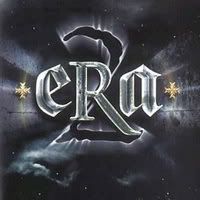 01 - Omen Sore
02 - Divano
03 - Devore Amante
04 - Sentence
05 - Don't U
06 - Infanati
07 - Madona
08 - Hymne
09 - Misere Mani
10 - In Fine
1999 - Solyma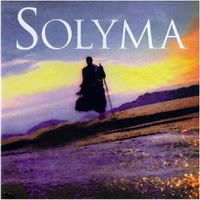 01 - Solyma (Jerusalem)
02 - Ante Solem
03 - Ad Me Veni
04 - Tres Armenii
05 - Karamane
06 - Dormire
07 - Laila Leil
08 - Propheta
09 - Terra Fidelis
10 - Tres Armenii [remix]
11 - Memoria
12 - Solyma (Jerusalem) [remix]
13 - Solyma (Jerusalem) (Pumpin' Dolls remix)
1999 - Sacredness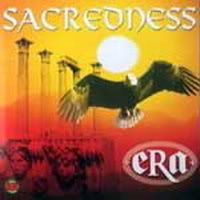 01 - Wanktakakiya
02 - Celebration
03 - Spirit Path
04 - Earth Walk
05 - It Is A Good Day
06 - Children Are Scared
07 - Prayer To The Four Direction
08 - Sacredness
09 - I Am Water
10 - The Thunder Beings
11 - She Sleeps Beside The Moon
12 - Spirit Nation
13 - Journey To Shambala
14 - Tara Shahti Mantra
15 - Sancha's Love For Amitabha
1999 - Ocarina Dream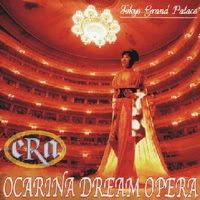 01 - Penance
02 - The Solemn Vow
03 - L'Est Un amor Oiseau Rebelle
04 - Secrets Of The Soul
05 - Mi Chiaman No Mimi
06 - Prayer To The Guardian Angel
07 - Un Bel Di, Vedremo
08 - The Struggle Within
09 - Costa Diva
10 - The Enduring Flame
11 - O Mio Babbino Caro
12 - Words Of Absolution
13 - E Lucevan Le Stelle
14 - The Workers Of Iniquity
15 - In Quelle Trine Morbide
16 - Prayer Of Quiet
17 - Vissi D'arte Vissi D'amore
18 - Stains Of Sin
19 - Ah, Fors'e Lui
20 - Threads Of Life
21 - Un Bel Di, Vedremo
22 - Prima Donna
23 - The Solemn
1998 - Voice Of Gaia

01 - Era
02 - Ameno (remix)
03 - Cathar Rhythm
04 - Mother (remix)
05 - Avemano
06 - Enae Volare mezzo
07 - Mirror
08 - Ameno
09 - Sempire d'Amor
10 - After time
11 - Impera
12 - Enae Volare
13 - Mother (remix radio longue ver.)
14 - Enae Volare mezzo (remix)
15 - Mother (radio remix)
1998 - Magic Spirit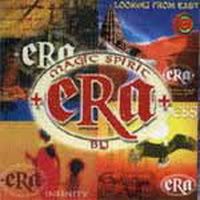 01 - Ameno
02 - Siochain Agusionannas
03 - Infinity Ocean
04 - Mother
05 - Celebration
06 - Flowers Of The Sea
07 - Sacral Nirvana (Radio Edit)
08 - Wanktakakiya
09 - Enae Volare Mezzo
10 - Boddhisattya Land
11 - Cather Rhythm
12 - Tara Shahti Mantra
13 - Angel
14 - Luohan Amitabhas Hands
15 - Journey To Shambala
16 - Era
1998 - Looking From East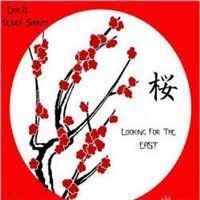 01 - Sacral Nirvana (Radio Edit).
02 - Siochain Agus Ionannas
03 - Sangha's Love For Amitabha
04 - Journey To Shambala
05 - Boddhisattva Land
06 - Tara Mantra Shakti
07 - Legend Of A White Stupa
08 - Donovan My Timeless Cosmic Friend
09 - Luohan Amitabha's Hands
10 - Tichinabet 2222
11 - Autumn In Beijing
12 - Rinpoches Of Ladakh
13 - Spring In Lhasa
14 - Gathering In Tara's Tea House
15 - Sacral Nirvana (Long version)
1998 - Infinity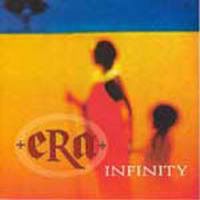 01 - The Gathering of Flowers
02 - Infinity Ocean
03 - Avatar
04 - Wind Love
05 - Flowers of the
06 - Circumitus Down
07 - Angel
08 - Avetino
09 - Habanera
10 - Without Horison
11 - Adajio
12 - Ameno (HQ Remix)
1998 - Era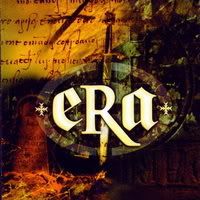 01 - Era
02 - Ameno
03 - Cathar Rhythm
04 - Mother
05 - Avemano
06 - Enae Volare mezzo
07 - Mirror
08 - Sempire d'Amor
09 - After Time
10 - Impera
11 - Ameno (HQ remix)
Mother
Misere Mani
Reborn
Ameno
Divano
Infanati
The mass
Looking for something
Enae Volare Mezzo